ORDERING

Online

https://www.etsy.com/shop/RedactionsPoetry.

By Mail


To order an issue, please make a check out to Tom Holmes and send to:

Redactions: Poetry, Poetics, & Prose
182 Nantucket Dr.
Apt. U
Clarksville, TN 37040

Issues $10 each plus $2 postage. Subscriptions are $15 for two issues.



SUPPORTERS



| | |
| --- | --- |
| Active Supporters | RedActive Supporters |
| Adrienne & Wayne Cayea | Liz & Donald Robbins |
| Mike Steele | William Heyen |
| Jessica Lindberg | Paul Holmes & Peggy Jennings |
| Delisa Mulkey | Stan Coe |
| Tricia Asklar | James Connors |
| | Maan R Al-Ubaidi (RIP) |
| | |
| | |



To become an Active sponsor of Redactions is easy, just donate $20 - $99.99. You will receive a free issue of Redactions for your support. RedActive sponsors need donate only $100 or more, and you will receive a two-year subscription. And both sponsors receive our gratitude and a magnetic car ribbon. We also thank our contributors for the opportunity to publish their wonderful work in each issue of Redactions: Poetry & Poetics. (If you wish to be a sponsor, please make out checks to Tom Holmes and send to 604 N. 31st Ave., Apt. D-2, Hattiesburg, MS 39401.) You can also donate here: https://www.etsy.com/shop/RedactionsPoetry.







SUBMISSIONS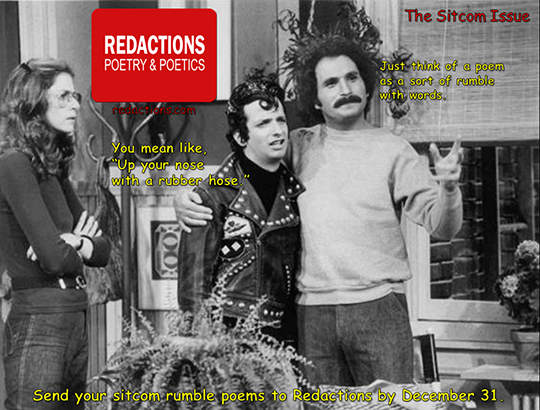 Redactions issue 27 will have a sit-com themed section. We are seeking poems about, inspired by, alluding to, or brushing up against tv sitcoms and/or their characters. Submissions for the sit-com issue are open from July 1, 2022, to December 31, 2022. For the sitcom section, you need only send one poem, but you can send more.

Regular submissions are open from July 1 until some time in 2023, which will be announced.
Submissions in General:
Redactions: Poetry & Poetics encourages submissions from everyone of every gender, race, religion, or sexual orientation.
Please include your work, brief bio, & your snail mail address in one attached file or pasted into the body of the email. We only accept submissions through email. We accept simultaneous submissions. Immediately inform us if a piece of work is accepted elsewhere. We do not accept previously published work. We prefer Word attachments, but RTFs and PDFs are okay. Please do not use links to cloud services, such as Google Drive or OneDrive. We try to read submissions throughout the whole year, & we generally respond in about two months. Please wait for response to a submission before submitting again.
Emails that have no subject line or have nothing written in the body of the email will be deleted. We do not accept blank emails with only an attachment. That scares us.
All rights to published work(s) revert back to the author. (Please mention first publication in Redactions: Poetry & Poetics if the work is reprinted.) Payment is one copy.
Poetry & Poetics Submissions:
To submit poems or poetry-related materials, such as poetry book reviews or essays about poetry or poets, please email us at redactionspoetry(at)yahoo.com (replace "(at)" with "@") and attach a submission of 3-5 poems into one Word, Wordpad, PDF, or Notepad document, or paste the submission in the body of the email.
Prose Submissions:
We no longer accept fiction or creative non-fiction submissions.
Art Submissions:
If you are sending a work of art, please submit as low-resolution JPEG or TIFF. If accepted, we will ask for a higher resolution image. Email submission to redactionspoetry(at)yahoo.com (replace "(at)" with "@").

Editor: Tom Holmes (Dr. T)
Associate Editor: M F Macpherson
Copy Editor: Miss Sophie
Layout & Design: Tom Holmes (Dr. T)